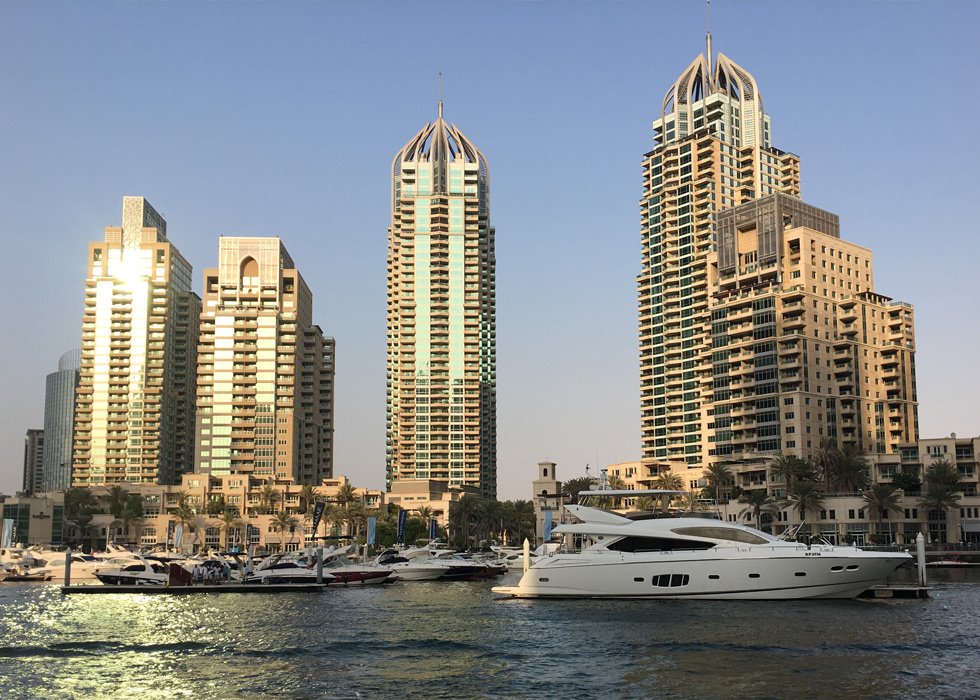 Two of the Conference Contacts team had the fabulous opportunity to visit Dubai this month – hosted by fellow industry professionals, they brought back some incredible memories to share.
Dubai is a place that fuels the mind. The city is constantly growing, and is rising to become the best business and travel destination in the world.
It makes the impossible, possible – standing above the clouds on the tallest viewing tower in the world, bringing a winter wonderland to the desert, even making it rain!
Capitalizing on its central location between east and west, Dubai has expanded rapidly over the past decade with its economy based around trade, manufacturing and tourism.
Liberal regulator conditions, free zones such as Dubai Media City, Dubai internet city and Dubai International Financial centre plus excellent transport links have made the Emirates the natural location for regional head offices for multinational companies as well as local enterprises.
Although portrayed much differently in some places around the world, Dubai is a very safe place, is tolerant of other cultures and religions and is extremely cosmopolitan. Dubai is an extraordinary leisure destination offering a wealth of amenities, from pristine beaches and world-class hotels to upscale golf courses and 5 star restaurants.
The city provides a broad spectrum of shopping experiences and is renowned for its ultra-modern shopping malls, home to just about every major fashion brand in the world! In the old town you will find the famous gold and spice souks and the vibrant and colourful textiles souk.
Dubai presents a kaleidoscope of past and present. Wind towers sit beside glittering skyscrapers, desert dunes roll into green golf courses, luxury yachts sail the wind alongside traditional dhows. Against a backdrop of a carefully preserved heritage, Dubai is building a visionary future.
Dubai is one of the most cosmopolitan, fast-paced and exciting cities in the world. There is a reason why the city attracts a record-breaking amount of tourists each year – perhaps because of its record breaking achievements and attractions.
Save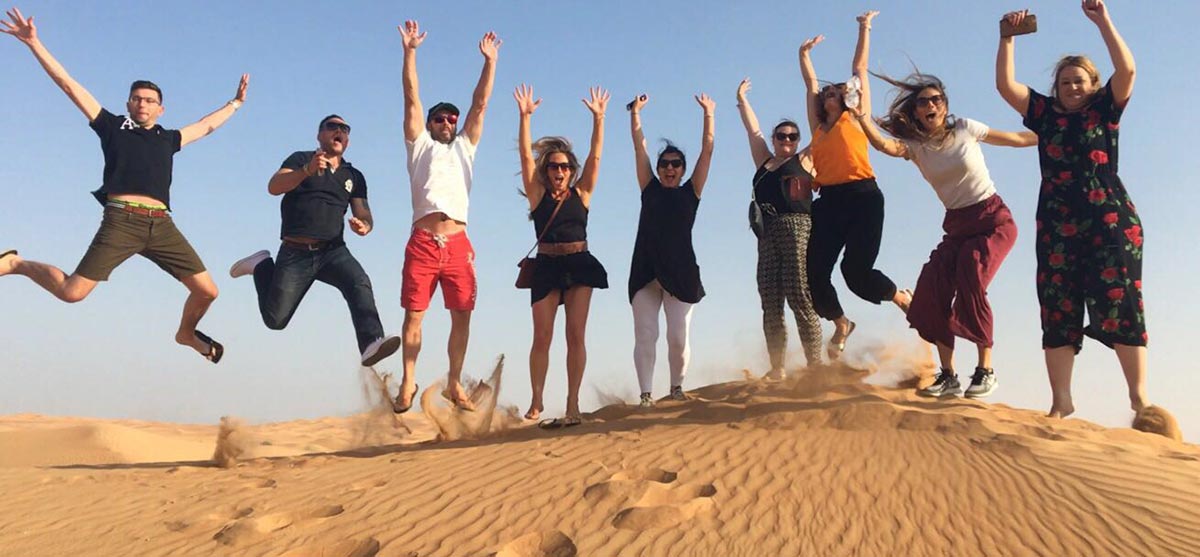 Itinerary One – Joanna Morgan
Following our arrival, we embarked on a scenic lunch cruise, showcasing and passing by the most stunning features Dubai has to offer whilst sipping an ice cold drink, riding jet skis and fly boarding!
Following an afternoon filled with some serious water fun, we had a guided tour around our hotel: Madinat Jumeirah Al Naseem. It is the youngest member of the successful Arabian Resort's family, a very contemporary hotel new to the portfolio with a purpose built conference centre. We finished our day with a stunning meal at Rockfish, you should not leave Dubai without trying some of the freshly prepared crudo and the best seafood!
Our second day started with Dubai Cultural City Tour and brunch at Sheikh Mohammed Centre for Cultural Understanding (SMCCU) City Exploration – this was a real eye opener for us all! Here we had the opportunity to ask questions in an open forum and truly understand the culture and life for a woman in Dubai. The SMCCU is a non-profit organisation which was established to increase awareness and understanding between the various cultures that live in Dubai.
From sea to sky we continued our day with a sea wings expedition, gliding over Dubai's coast, to catch our funky transfer, arriving for lunch on Harley Davison's at Zabeel Saray which is a truly luxurious beachside resort located on the west crescent of the iconic Palm Jumeirah and offering exhilarating views of the Arabian Gulf and Dubai's impressive skyline.
Our evening program started with a special show at the Dubai Opera to see Tony and Oliver award winning star Lea Salonga. We then continued on to conclude our day at the iconic Emirates Towers for dinner. Set in the heart of Dubai, Emirates Towers is a contemporary and stylish city hotel with 5 star service, luxurious rooms and home to the top restaurants in the city.
Our third and final day started with a visit to the Burj Al Arab where we saw their incredible meeting spaces, toured the hotel and sampled their delicious food. The Burj Al Arab offers the finest in Arabian hospitality and service, everything you would expect and more from a '7 star' hotel. However to our surprise offers an incredibly competitive meeting package, this is a venue that is easy to disregard due to its reputation of being the only '7 star' hotel in the world but if you are looking for a wow venue but you do not have such a wow budget, the Burj Al Arab could be your ideal venue.
After soaking up the splendour of the Dubai sun with a fabulous lunch, we were picked up in 4×4's ready to whisk us away to Dubai's biggest playground – The desert! This was a definite highlight of the trip and a must do when visiting Dubai! We started our journey into the desert with an adrenalin pumping race over sand dunes, camel riding and sand boarding. Followed by a falconry display watching the sun disappear over the horizon, we were escorted to our very own traditional Arabian Bedouin camp and experienced the ethereal magic of the desert with a three course meal and entertainment under the stars.
Dubai is an ever changing, ever growing city. Dubai continues to amaze with its constant advances. Visiting Dubai is a unique experience. It has a lot to offer weather you are visiting for business or pleasure, you can't help but feel the buzz of the city.
A huge thank you to Destination Management company, 24 Degrees, who specialise in tailored experiences in Dubai, Abu Dhabi and Oman.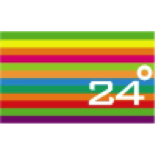 Find out more about 24 Degrees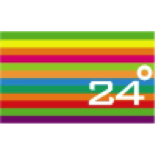 Save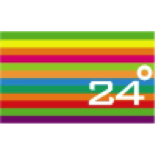 Itinerary Two – Nicola Cross
I started my Dubai adventure at The Meydan Hotel, home of the renowned Dubai World Cup. The Meydan Hotel is the longest hotel in the world at 1.3km – a very special, modern and contemporary venue with rooftop meeting spaces directly looking over the racecourse. We finished our day in Shiba Restaurant, embarking on a journey of culinary Far Eastern delights.
On day two, we had a show round of the fabulous hotel followed by brunch at the Farriers Restaurant – a gourmet extravaganza of traditional, Asian & European cuisine. After brunch we had the most incredible experience taking a helicopter tour from Atlantis The Palm over the city. A truly magical experience and a breath taking view! After enjoying the opportunity to explore modern Dubai, we watch the stunning water fountain show at the base of the famous Burj Khalifa. Dinner followed at the exclusive Prime Steakhouse. If that wasn't enough for the day we then headed to 'White' – an exclusive open air night club on the roof top of the hotel with panoramic views of Dubai.
The following day we were immersed in the culture by visiting old Dubai's souk markets and museum. The Desert safari was another highlight of the trip with wild rides over the sand dunes, before being transferred to our next destination!
Situated in the heart of the desert and nestled in the dunes of Dubai, Bab Al Shams Desert Resort & Spa is the ultimate luxury retreat. Bab Al Shams offers guests a one of its kind traditional desert experience that is true to the culture and heritage of Dubai. For those seeking a unique desert experience within easy reach of Dubai, Bab Al Shams Desert Resort & Spa presents the ideal destination. Offering the ultimate in comfort and entertainment. the Resort's impressive conference and banqueting facilities are inspiring, impressive and private, with a total of 22 meeting rooms and event capacity for up to 5,000 people.
We began our final day soaking up the sunshine and making the most of the luxury facilities the hotel has to offer. We spent the evening watching the Dubai sun disappear into the desert, something hard to forget! Followed by dinner at the Al Hadheerah Restaurant which offered a generous buffet with 14 live cooking stations. An authentic desert dining experience with live entertainment including dancers, camel riding and a falconry show – a real wow factor to end our incredible time in Dubai.
Many thanks to Corinthia Hotel & Residences and Alpha Destination Management for such an unforgettable Arabian experience.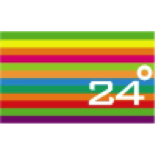 Save