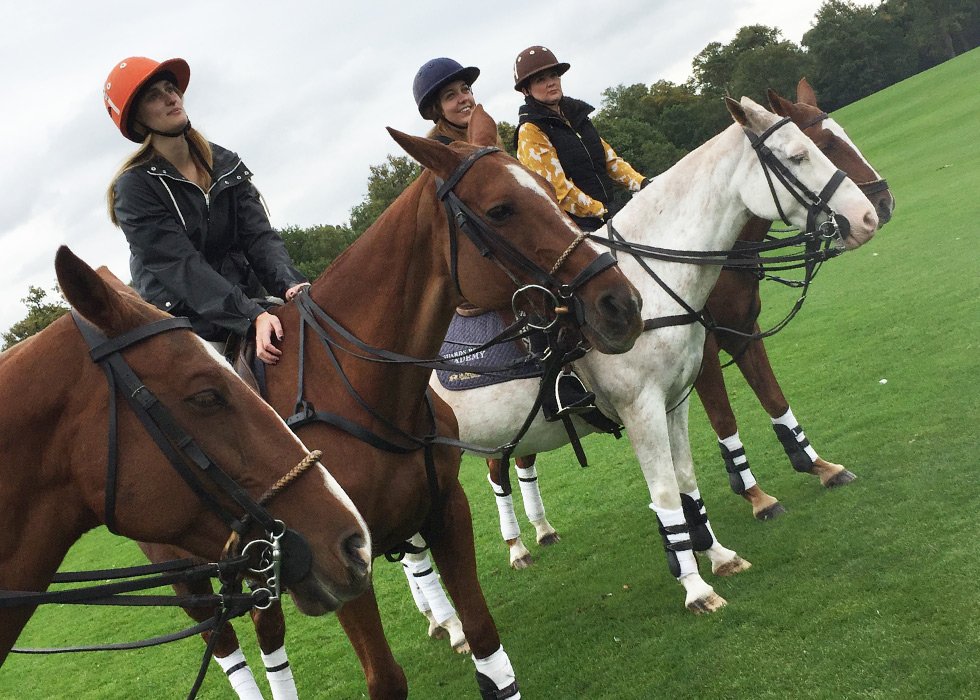 Team Building with a Difference
September saw a first for Conference Contacts, together with both Coworth Park and Guards Polo Academy when our team proved they were game enough to get in the saddle of some of the UK's most elite polo ponies.
Held at Coworth Park, guests were greeted with coffee and breakfast pitch-side, overlooking the beautiful Ascot vista and the home of British polo.
As well as learning the basics of how to play polo, guests were also taught the polo swing technique before conquering their fears and jumping on board to have a go. The wonderful Guards Polo Academy team put guests at ease and gave them the confidence to really embrace the challenge, gaining a huge sense of personal achievement in the process.
Greater productivity, superior problem-solving, increased engagement and clearer communication are all benefits of a well-built team. Conference Contacts can manage the whole process, from finding a quirky, unique venue, to suggesting activities which resonate with a client's company values. As global event specialists, our programmes can take place anywhere in the world, there's no limit to our creativity.
So if you want to challenge your team to experience the extraordinary, then the Conference Contacts team can create a team building programme tailored specifically to you.
Testimonials:
"Thank you for a wonderful day on Friday.  It was absolutely brilliant and if I ever get the opportunity to run a team day again with activities, that will be top of my list of suggestions".
"Thank you, thank you, thank you for creating the most amazing experience on Friday –  the whole group were on board with the event and we loved every minute. Thankfully a few of us got over our fears and spent the rest of the day laughing and feeling pleased with our own personal achievement –  we can see why this event is perfect for the corporate world".
About Coworth Park & Guards Polo Academy: 
Both Guards Polo Academy at Coworth Park and the world class Equestrian Centre are open for both hotel and non-hotel guests, whatever your level or ambition in the saddle.
Coworth Park is the only UK hotel to feature its own polo fields and practice facilities, managed by Guards Polo Club, with teaching providing by Guards Polo Academy. Guards Polo Club brings almost 60 years of hosting world-class sport and polo events to Coworth Park, whilst the Academy is managed by professional players Ebe Sievwright and Philip Meadows, each contributing over two decades' worth of experience in polo instruction and management.
Coworth Park's Equestrian Centre provides beautifully bred, well trained and immaculately presented horses to ride across our 240 acre private estate – there is no better viewpoint to explore the beautiful Berkshire countryside than on horseback. For those wishing to improve their riding ability further, we offer one-to-one lessons in basic riding, dressage and jumping on your own horses or on our team of schoolmaster horses and ponies.
Coworth Park and Guards Polo Academy work seamlessly together and are perfect for your conference team building.
Coworth Park in Ascot is Dorchester Collection's luxury country house five star hotel and spa.
Save