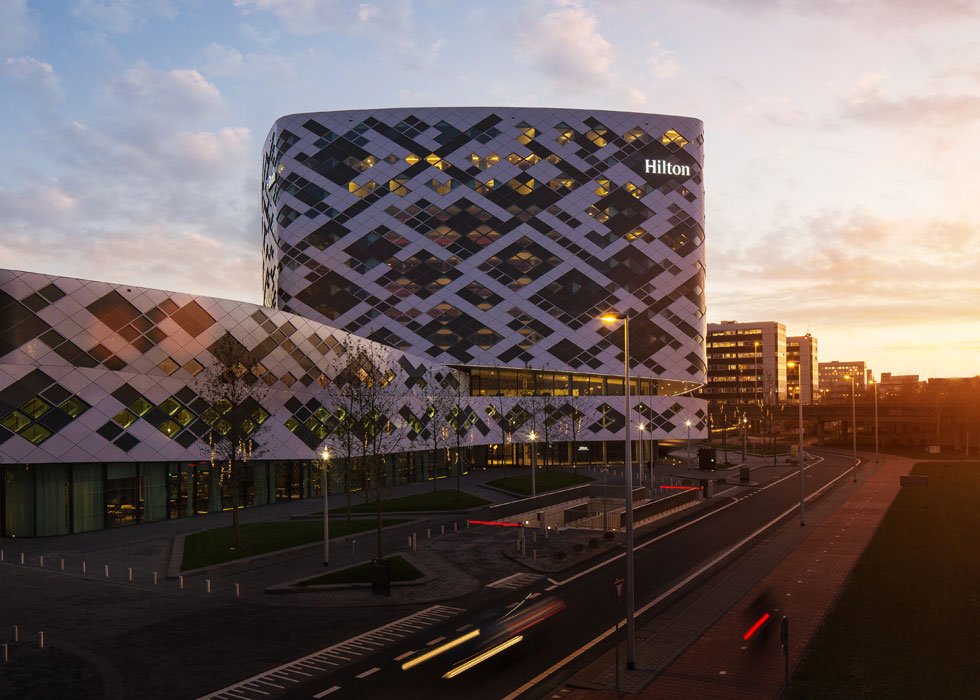 ---
The Insider's Guide to Venues
We do a lot of business with Hilton Hotels. Our clients find they offer the right level of quality, service and competitive rates.
So we've been checking out Hilton's major programme of new openings in strategic locations. If you would like more information or to arrange a site visit, please contact Joanna Morgan at Joanna@conferencecontacts.co.uk.
---
Hilton Bournemouth
Janet has just visited this new property and came back very impressed. Opened only in December, this stunning new 172 guestroom hotel offers spacious, luxurious suites and bedrooms, and is just minutes from the beach and pier.
The new hotel boasts a ballroom for up to 330 delegates as well as a rooftop terrace and sky bar. It is also just a short stroll from the Bournemouth International Centre and is close to the town.
Thanks to this hotel, Bournemouth is now very much back on the map as a serious event destination.
For more information go to: Hilton Bournemouth or call Janet on 01628 773300

---
Hilton Amsterdam Airport Schiphol
Also fresh from a recent December opening, the Hilton at Schiphol is a best-of-both-worlds solution.
It's just a 5-7 minute walk from the airport terminals, under a covered walkway. Yet it also offers quick access to downtown Amsterdam and the business district at the Amsterdam Zuid.
We believe this impressive cubic icon is set to become the airport's prime conference hotel, with the size and flexibility to hold any type of meeting or event.
And don't worry about the planes: all guestrooms will feature soundproofing and blackout blinds. The hotel will also have its own underground parking facility.
For more information go to: Hilton Amsterdam Schiphol Airport
---
Doubletree by Hilton Hotel at the Ricoh Arena – Coventry
A multimillion pound upgrade has happened here, and it shows.
Opened in October, this newly rebranded Doubletree (previously The Ricoh Arena Hotel) now offers 121 guestrooms of a superb standard, including 50 queen rooms with stadium views.
Uniquely situated within the multi-purpose sports stadium, the hotel is ideal for group accommodation bookings. It also offers complimentary Wi-Fi and designated parking at the arena.
For more information go to: Doubletree at the Ricoh Arena
---
Doubletree by Hilton Hotel London – Kensington
A new venue proposition on the London landscape, this Hilton in Kensington re-launched in December as a luxurious 4-star hotel.
Previously the Regency Hotel London, the hotel's unique historic building and traditional façade belies an all-new contemporary interior.
There are 203 guestrooms at your disposal and eight meeting suites – the largest of which can accommodate up to 100 delegates.
For more information go to: Doubletree Kensington
---
Hilton Cambridge City Centre
Serving the major enterprise and educational hub of Cambridge, Hilton opened here in December. Sitting right in the heart of the city, and just a mile from the station, it blends accessibility and ambience beautifully.
Its 198 guestrooms include a number of suites, as well as self-contained conferencing on some scale: their Isaac Newton suite can accommodate up to 200 delegates.
For more information go to: Hilton Cambridge City Centre
---
Doubletree by Hilton Hotel London Excel
Hilton has upped its presence in the Docklands area by acquiring and refurbishing the old Ramada Hotel and Suites London Docklands.
Opened in January, and ideal for the Excel Exhibition Centre, the hotel has 260 guestrooms.
For smaller meetings on-site, there's an event space for up to 40. You can also expect complimentary Wi-Fi and some free parking.
For more information go to: Doubletree London Excel Hampton by Hilton Update